Neurology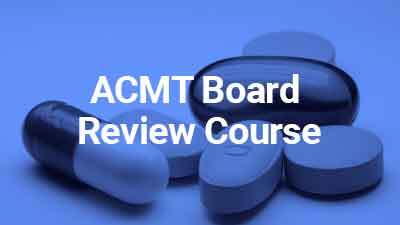 2022 ACMT Board Review Course - On Demand
Prepare for your MedTox Board Exam with ACMT
ACMT Highlights Tox-in-Ten: Episode 38
ACMT members Gillian Beauchamp, MD, and Elizabeth (Elissa) Moore, DO deliver evidence-based medical toxicology core content and trending topics in easily digestible bites. Visit toxinten.com and follow on Twitter @toxinten.
National Grand Rounds - April 2020
Reversible Cerebral Vasoconstriction Syndrome - The Role of Drugs and Medications.
National Case Conference - June 2018
1. A 28-year-old woman in an inpatient psychiatric facility receives lorazepam (8 mg total), diphenhydramine, haloperidol, olanzapine, and ziprasidone over one day for worsening psychosis. She is sent to the ED with hyperthermia, tachycardia, and abnormal movements. 2. A 23-year-old man presents to the ED awake and alert with vomiting after ingesting an herbal product in a suicide attempt. His vital signs on arrive are: BP, 127/77 mmHg; HR, 83/min; RR, 16/min; T, 97.8F. 3. A 79-year-old woman presents to the emergency department with back pain after a fall. A large hematoma is noted on her left/right flank.
| Access Date | Quiz Result | Score | Actions |
| --- | --- | --- | --- |