Overview
Pathways to Building and Sustaining a Medical Toxicology Practice is a one-day (8-hour) virtual workshop on the variety of pathways available for establishing and maintaining a satisfying career in the field of medical toxicology.
Led by experienced active medical toxicologists from a variety of practice settings, this workshop features panel discussions comparing the most common hospital-based, non-hospital-based, and non-clinical practice models, plus presentations on additional topics of interest, including adding addiction medicine services to a medical toxicology practice, hints and tips for contract negotiation, the basics of medical billing and coding, and the need for additional research on medical toxicology practice.
Register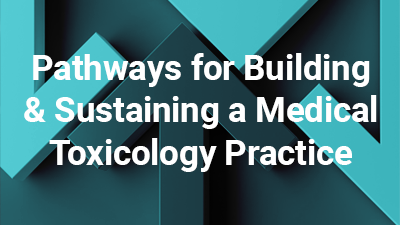 Pathways to Building and Sustaining a Medical Toxicology Practice - On-Demand
On-Demand Course
Learning Objectives
Outline opportunities for a lifelong career practicing medical toxicology
Identify revenue streams for working as a medical toxicologist
Understand how to get out of the emergency department and earn a living as a medical toxicology subspecialist
Describe additional pathways to expand current medical toxicology practice
Identify new and emerging roles for medical toxicologists in the field of addiction medicine, telehealth, government/public health, and industry
Illustrate techniques for negotiating your time (FTE) with your Chair and Administrators
Describe how to incorporate forensic consulting into your medical toxicology practice
Target Audience
The course is an excellent opportunity for all medical toxicologists, including fellows, recent graduates, and others with an interest in expanding their medical toxicology practice.
| Access Date | Quiz Result | Score | Actions |
| --- | --- | --- | --- |
What People Are Saying
"It was very helpful to see the different revenue and funding streams and the arguments that have to be made to continue the service."
"Hearing about the journey to getting a younger service on the ground was exceptionally helpful"
"This will be a great course to take before another national meeting such as ACMT, ASM, or NACCT"