Chemical and Radiological Agents of Opportunity for Terrorism
In recent years, there has been growing concern that many of the most likely terrorist threats will involve "agents of opportunity" or materials that are readily available in most communities around the country.
The American College of Medical Toxicology (ACMT) and the Radiation Emergency Assistance Center/Training Site (REAC/TS) in partnership with the Southern Regional Disaster Response System (SRDRS) are pleased to offer the Chemical and Radiological Agents of Opportunity for Terrorism course, a 2-day activity on emergency medical response to exposures from radioactive materials and toxic chemicals. The Office of Emergency Management, within the Agency for Toxic Substances & Disease Registry (ATSDR) and the National Center for Environmental Health (NCEH) at the Centers for Disease Control & Prevention (CDC), supported the development of this unique course to familiarize health care providers and responders with toxic exposures. The course will review the medical and psychological consequences of exposures to a variety of chemical and radiological materials. It will include practical information regarding scene safety for such agents as high potency fentanyl analogs, inhaled irritants, and proper decontamination of a victim contaminated with radiological material.
Target Audience: the information presented will be of interest to state & local first responders, EMTs, paramedics, emergency nurses, emergency physicians, pharmacists, emergency response coordinators, public health officials, public health professionals, industrial hygienists and others involved with chemical terrorism preparedness and response.
Continuing Education: CE credits are available for this course through the CDC. Register for a course to receive instructions on how to obtain CE credit.
Course Objectives:
Describe the types of radiation and radiation scenarios
Discuss Acute Radiation Syndrome (ARS)
Describe the emergency care of patients contaminated with radioactive material
Describe cutaneous radiation syndrome assessment and care
List resources available to address radiation accidents
Discuss the roles and responsibilities of emergency physicians and nurses and prehospital personnel during a radiation accident affecting a large population
Recognize the common health effects (toxidromes) caused by chemical exposures
Discuss safe and effective management strategies for chemical poison exposures
Identify resources that can assist in the initial recognition and management of a chemical public health emergency
Recognize the interdisciplinary role of pre-hospital and hospital providers, public health and pharmacy in responding to a chemical event
Tailor activities by identifying clinical characteristics of the pharmacy practice and community and learning about diseases associated with the service population and community
Program Overview
Radiological Emergency Medical Management
Lectures Include:
Practical Radiation Physics & Radiation Protection
Acute Radiation Syndrome (ARS)
Radiation Protection, Contamination Control & Instrumentation
Cutaneous Radiation Injuries
Radiation Emergencies for Healthcare Providers
Common Radiation Sources
Management of Internal Contamination
Donning/Doffing and Decontamination
Closing Remarks & Adjourn
Chemical Agents of Opportunity for Terrorism
Lectures Include:
Toxic Disasters: Beyond Conventional Chemical Weapons
Chemical Explosions
Toxic Gases as Threats
Why are Cyanide & Fumigants So Worrisome  
Food, Water & Medication as Vehicles for Toxic Threats 
Clinical Neurotoxicology of Chemical Threats  
Delayed Toxic Syndromes
The Psychological Impact of Mass Exposures
After Event Population Monitoring: Pros & Cons
Scenario-Based Discussion
On-Demand Courses
Chemical and Radiological Agents of Opportunity for Terrorism - July 2022
July 7-8, 2022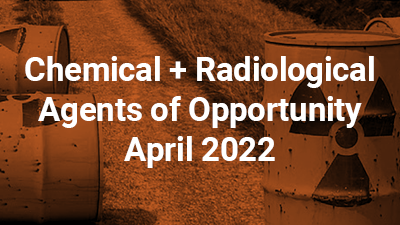 Chemical and Radiological Agents of Opportunity for Terrorism - April 2022
April 28-29, 2022
Chemical and Radiological Agents of Opportunity for Terrorism - February 2021
February 22-23, 2021
| Access Date | Quiz Result | Score | Actions |
| --- | --- | --- | --- |
Please Login
Interested in Scheduling a Course?
Find out more about hosting your own Chemical Agents course either in-person or virtually.